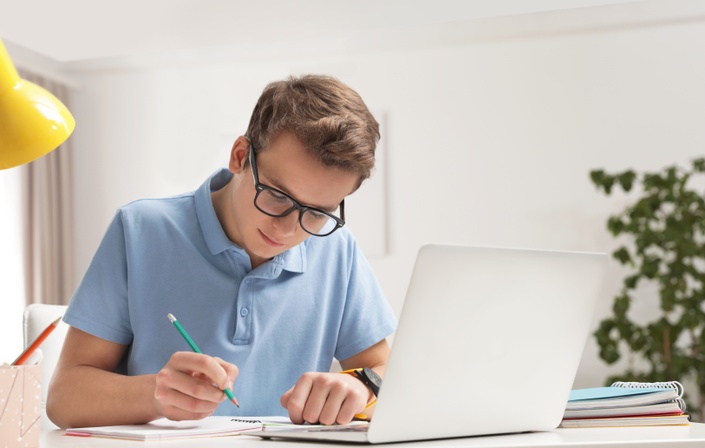 English GCSE Blueprint
In depth home-study and revision course
English GCSE Blueprint is a new generation of resource designed to help students to achieve the highest possible grade in the GCSE English exam. It is based on years of work successfully guiding students through the GCSE course. The English GCSE Blueprint course is comprehensive and innovative in its approach and delivery.
Your Instructor
With over a decade working in education and private tuition, I have extensive experience in preparing students for National exams. Students I have worked with over the last five years have achieved an average increase of 1.8 grades and the success rate achieved with re-sit students has been around 85%, over four times the national average.
I focus specifically on the core subjects at GCSE Level: English and Maths.
Having sat a BA and MA in Modern Languages and Literature at the University of Oxford, I have worked with many of the most reputable tuition agencies in the UK and overseas.
I'm a member of the National Tutors' Association, the national body upholding standards of professionalism and ethics within the UK Tuition industry.
I drew upon a number of different areas of expertise to develop this course. It is based on insights gained from over a decade working as a tutor with secondary school students and re-sit students. The course structure draws upon evidence based learning strategies to help students absorb the material efficiently. Specifically it incorporates active recall through quiz questions and exercises that test the material in each video. The quiz questions and exercises also engage both declarative and procedural memory in keeping with J R Anderson's cognitive architecture model of learning. Although students themselves don't need to be aware of these strategies, their incorporation will assist with the learning process.
Course Curriculum
Introductory Material
Available in days
days after you enroll
Accuracy of English
Available in days
days after you enroll
Important Vocabulary
Available in days
days after you enroll
Frequently Asked Questions
How long does it take to complete the English GCSE Blueprint course?
The course consists of thirty videos with exercises. This equates to over seven hours of condensed course material. There is also a seventy page text guide included. I would advise students to give themselves a few months to absorb the material on the course and to complete all of the exercises in the text guide. This time-frame is enough to allow students to put some of the ideas into practice in their written work and to see a steady transformation. For students with an exam in the immediate future, it is possible to do the course in a very short period of time - perhaps a week. Students will still benefit from going through the material at a faster pace. However, taking more time will allow them to put things into practice gradually. Students should also refer back to the course to refresh their knowledge and understanding periodically throughout the academic year.
Is this course designed to help with English Language or English Literature?
The course is designed specifically for the English Language GCSE. This is the focus of the material. Naturally, there is a substantial cross-over between the papers. The skills students develop in preparation for the English Language paper will also be very useful in the English Literature GCSE.
How is the English GCSE Blueprint course different from other resources?
The course content is exceptionally comprehensive. It begins right at the fundamentals and takes students through to the more advanced aspects of the English Language course and examination. The approach I take is one that I haven't seen replicated thus far in other resources. The course breaks down language, writing, textual analysis and exam preparation in novel ways that have been more readily absorbed by students. The English GCSE Blueprint is designed in such a way that students will build their skills rapidly from the base level upwards. Students complete the course in a set order along with the questions and activities. Using this approach students will notice very rapid progress in their understanding and skills. The course is clear and methodically designed. It breaks down the complex and often vague subject of English Language into a very clear and structured skill-set.
How long does access to the course last?
Students will have access to the course for three academic years. The course book is downloadable so students will have lifetime access to that part of the resource.
Why was the English GCSE Blueprint course created?
I created this course as I found that the resources available were not comprehensive enough and none of them looked specifically at how to address students' sticking points. Having worked with many students during my eleven years as a private tutor, I've seen very clear patterns in the issues that students have when approaching this exam. Frequently this meant creating my own material to address these issues. This course is designed specifically to help students identify and build the skills they require to fulfil their potential in GCSE English. The idea was to build a comprehensive resource that students could use independently in preparation for their GCSEs.
Can this resource be used with a tutor/parent?
The English GCSE Blueprint is a great tool for students to use with parents and tutors. The course book and videos provide an excellent starting point for tutorials, lessons and writing exercises. The course material is an excellent tool for students, parents and tutors.
How does the price compare to other resources?
I have also set the price point for this online course at a substantially more affordable level than other comparable online courses. The average price of online courses is in the £250 - £350 range - although this is a reasonable price-point, it is unaffordable for some students. As an educator, I've been excited about the success that students going through this course with me in person and online have had. I want to offer the course to all students who are willing to invest time and energy on working through this resource. As a result I made the decision to offer the course at a price point that I is affordable to any family. I believe that the content of the English GCSE Blueprint represents a unique value proposition - the most developed course at the most affordable price.
Is the course worth my investment?
This course offers outstanding value to students. The financial return on having a GCSE English Language is very substantial. Even for a student who leaves school at sixteen, there is an average of £2000 per year greater earnings for somebody with this qualification. This figure will tend to increase each year as different career paths have different options for progression. For students who are able to access University level courses after gaining a pass in the English Language GCSE, the financial return will tend to be even more significant over time. My ambition for this course was to offer the content and feel of one-to-one tuition at a fraction of the overall cost. I believe that this course achieves this goal. Students who go through this course will see the small investment paid back hundreds of times over.
What if I don't find the course useful?
For anyone who don't find the course useful, I offer a full refund provided that the student/parent contacts me within thirty days of purchase.
Is your course protected by copyright?
All of the intellectual content contained within the English GCSE Blueprint is protected by copyright. The video content, slides, multiple choice question bank and text guide are not to be plagiarised, reproduced or re-sold without the express permission of the author. The platform hosting the course - Teachable - affords legal protection to all of its course creators.
For students feeling uncertain about their skills in relation to the English Language GCSE, this course is an excellent tool. This course has been carefully designed to guide students through the entire process of preparing for the GCSE English Language exam. By going through the English Language Blueprint course students build skills, knowledge and renewed belief in their own ability.